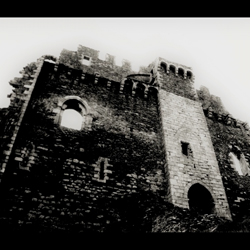 "Two Castles in Black" was recorded live in one take at Dark Sound Studio in April 1993 and used for the compilation tape And Forget… issued by the French association Incense in October 1993. This rare track was based on several experiences in two ruined castles in Haute-Vienne in France with local friends. One is the impressive mediaeval fortress named Châlucet and built probably in the 13th century, where we stayed up all night around a fire, with the intense feeling to be back in medieval times. Our love of antique ruins – Romanticism's legacy – was thus fully satisfied. Ruins invite spectators' reflections on transience, decay and death. The other castle is that of Valmate, sometimes spelled Walmath, which was built in the 19th century, then abandoned and almost completely looted in 1993. The scent of desolation was particularly present. The first doom part of the song was dedicated to Châlucet and the second part – noisier and more industrial because of its link with modernity – was dedicated to Valmate.
"How I love to see the decay
Of these old ruined castles
Against which the mutinous years
Have deployed their insolence…
Retreating there are demonic sprites
Who with malicious frolics
Deceive our senses and torture us."
Unknown author quoted in The Tradition of Household Spirits, Ancestral Lore and Practices by Claude Lecouteux.
Photos of Châlucet and Valmate used in the music video by Kurial, circa 1993. "Two Castles in Black" was recorded live at Dark Sound Studio, 1993. Music and words by Scorh, 1993. Mordor were at the time of this recording: Scorh Anyroth – voice, guitar, machines; Dam Gomhory – machines & recording; ᛣAlghor Dursan – machines.